on Sat Jun 14, 2014 1:03 pm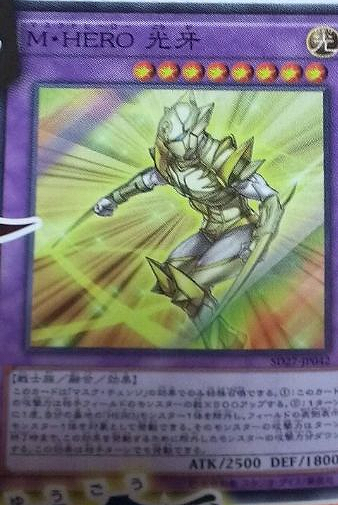 Masked HERO Koga
LIGHT/Warrior
Level 8
Fusion/Effect
ATK 2500/DEF 1800
Must be Special Summoned with "Mask Change" and cannot be Special Summoned by other ways.
(1)This card gains (X00) ATK for each monster the opponent controls.
(2) Once per turn, during either player's: You can banish 1 "HERO" monster in your Graveyard, then target 1 face-up monster on the field; until the end of this turn, that monster loses ATK equal to the ATK of the monster banished to activate this effect.
To be honest, I'm little bit disapointed in Koga's effect...

He's good for some HERO OTK's which can work good with Voltic...
What do you guys think?

Former Assistant and Professor
Kandy.JPEG

Slifer Red Duelist

Posts

: 7098

---

Reputation Points

: 202

---
on Sat Jun 14, 2014 1:05 pm
They have dark law it's okay


"Our largest regrets are not for things we did, but for things we did not do. Things we did not say; love that never could happen. We bury our regrets by promising to change our ways. But sometimes we don't get to change the past."
~Mr.Kandy
on Sat Jun 14, 2014 1:09 pm
Mr.Kandy wrote:They have dark law it's okay
I must say that Acid and Dark Law are everything we need and they can work awesome :3

Former Assistant and Professor

Permissions in this forum:
You
cannot
reply to topics in this forum