spottysn1per

Slifer Red Duelist

Posts

: 1320

---

Reputation Points

: 15

---
on Sat Sep 13, 2014 4:59 pm
Information:
So the OCG has a new set for all TCG exclusive and Korean exclusive cards. There aren't many ground breaking cards in this set admittedly. However they finally have all of the current Noble Knight cards available to them.
The one big card that caught my attention in this set is Elder God Noden. Formerly a Korean exclusive he has now been given to the OCG which may rise the question of when he will arrive in the TCG. His introduction will also surely put Instant Fusion on the map. One thing is for sure, this card can do a lot of damage.
They will also receive Obedience Schooled and since the OCG is well known for fantastic combos and new ideas it will be interesting to see if they could renew the impact of Raccoons.
The Card List
:
Common:
Archfiend Giant
Avalon
Bujingi Pavo
Bujingi Raven
Bujingi Sinyou
Bujingi Warg
Dragonroar
Earth-Shattering
Flowbot
Galaxy Serpent
Ghostrick Break
Ghostrick Ghoul
Ghostrick Yeti
Gravekeeper's Heretic
Gueririlla Kite
Humpty Dandy
Mecha Phantom Beast Aerosguin
Moon Dance Ritual
Noble Knight Drystan
Noble Knight Eachtar
Noble Knight Peredur
Noble Knights of the Round Table
Plank-Scale
Sinister Yorishiro
Sylvan Bladefender
Sylvan Mikorange
Vampire Duke
Vampire Vamp
Wattchic Fighter

Rare:
Artifact Scythe
Blue Flame Swordsman
Cockadoodledoo
Confronting the "C"
Escalation of the Monarchs
Gladiator Beast Nerokius
Gwenhwyfar, Queen of Noble Arms
Lady of the Lake
Noble Knight Brothers
Outer God Nyarla
Tour Bus To Forbidden Realms
Xyz Encore

Super Rare:
Elder God Noden
Noble Knight Borz
Obedience Schooled
Powered Inzektron
Sylvan Princessprout
The First Monarch

Ultra Rare/Secret Rare:
Angel of Zera
Harpie Lady Phoenix Formation
Ignoble Knight of High Laundsallyn
Sacred Noble Knight of King Artorigus
Noble Arms – Excaliburn

Extra Secret Rare:
Grandopolis, The Eternal Golden City
E☆HERO Pit Boss
As ever voice your opinions about the set below. Let us know if you feel it will be a good investment and if you are a fan of any of the cards it will give us.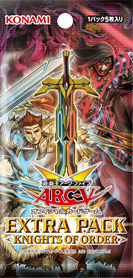 on Sat Sep 13, 2014 5:06 pm
Why all boxes has Noble Knights on them .-.

DA Administrator of the year 2012, 2014 l DA Artist of the Year 2012, 2014, 2015 l ~Lead, follow, or get out the way~

Permissions in this forum:
You
cannot
reply to topics in this forum