Jv

Slifer Red Duelist

Posts

: 16791

---

Reputation Points

: 58

---
on Sun Nov 16, 2014 12:08 pm
Performapal Pinch Helper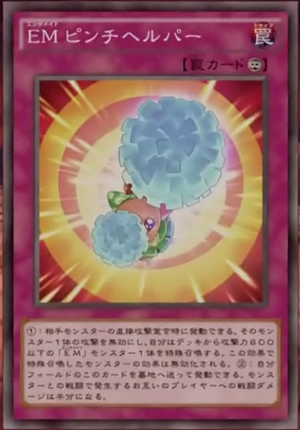 Activate this card when an opponent's monster declares a direct attack: Negate the attack, and if you do, Special Summon 1 "Performapal" monster with 800 or less ATK from your Deck, but its effects are negated. When a monster you control battles an opponent's monster: You can send this face-up card from your Spell & Trap Zone to the Graveyard; halve any battle damage either player takes from this battle.
on Sun Nov 16, 2014 2:03 pm
Not sure If It's good or bad, haven't seen other cards of the same Arch-type before.

DA Administrator of the year 2012, 2014 l DA Artist of the Year 2012, 2014, 2015 l ~Lead, follow, or get out the way~
Jv

Slifer Red Duelist

Posts

: 16791

---

Reputation Points

: 58

---
on Sun Nov 16, 2014 3:01 pm

Permissions in this forum:
You
cannot
reply to topics in this forum