Jv

Slifer Red Duelist

Posts

: 16791

---

Reputation Points

: 58

---
on Sun Dec 21, 2014 1:03 pm
Booby Trap E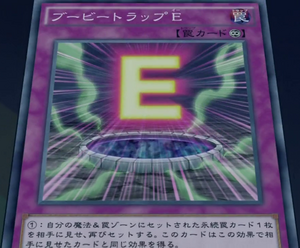 Reveal 1 Set Continuous Trap Card in your Spell & Trap Zone; this card's effect becomes the revealed card's effect.
The Butler

Slifer Red Duelist

Posts

: 51

---

Reputation Points

: 3

---
on Sun Dec 21, 2014 6:45 pm
This cards ok... idk why you wouldn't just use the set card already... I mean idk much about trap related decks, I suppose trap monsters benefit from this well, or like maybe wanting a second fiendish but aside from that, I don't think it will see a lot of play in main decks, many don't run continuous traps and having two starts to clog up the backrow. That being said, probs works nice will trap monsters and magic planter for drawing cards as well. Idk guess I will see when it comes out.
Jv

Slifer Red Duelist

Posts

: 16791

---

Reputation Points

: 58

---
on Sun Dec 21, 2014 7:40 pm
I don't think this card will touch the ocg xD

Permissions in this forum:
You
cannot
reply to topics in this forum