Jv

Slifer Red Duelist

Posts

: 16791

---

Reputation Points

: 58

---
on Sat Jul 04, 2015 12:53 pm
The Next TCG North America Shonen Jump Promo Card, Only Legal in that region until an official release in Europe\Latin America\ Oceania\etc in a new Set, is:
Beast-Eyes Pendulum Dragon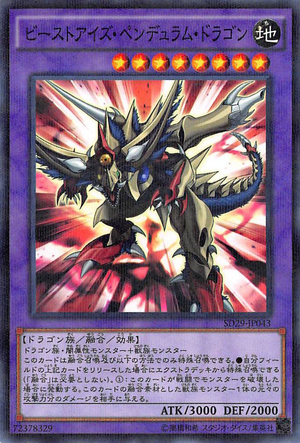 1 DARK Dragon-Type monster + 1 Beast-Type monster
Must be Fusion Summoned, or Special Summoned (from your Extra Deck) by Tributing the above cards you control (you do not use "Polymerization"), and cannot be Special Summoned by other ways. If this card destroys a monster by battle: Inflict damage to your opponent equal to the original ATK of the Beast-Type Fusion Material used for its Fusion Summon.

Jv

Slifer Red Duelist

Posts

: 16791

---

Reputation Points

: 58

---
on Thu Jul 09, 2015 6:52 am
http://img3.wikia.nocookie.net/__cb20150708181202/yugioh/images/7/71/BeastEyesPendulumDragon-JUMP-EN-OP.png
Official Proxy.

Permissions in this forum:
You
cannot
reply to topics in this forum