Jv

Slifer Red Duelist

Posts

: 16791

---

Reputation Points

: 58

---
on Wed Aug 12, 2015 12:07 pm
Assault Blackwing - Kusanagi the Gathering Storm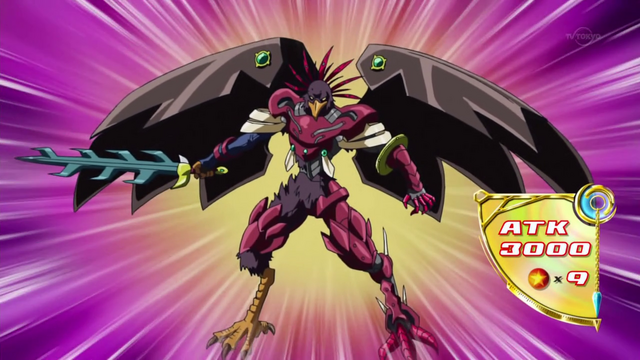 When this card is Synchro Summoned: It gains ATK equal to the total ATK of the "Blackwing" Synchro Monsters used as Synchro Materials, until the End Phase. If this card attacks a Defense Position monster, inflict piercing battle damage to your opponent.
Train Heartnet

Slifer Red Duelist

Posts

: 7809

---

Reputation Points

: 64

---
on Wed Aug 12, 2015 12:28 pm
so basically a fuck you I win Synchro with piercing damage lel

(•_•) ( •_•)>⌐■-■ (⌐■_■)
http://i.imgur.com/AYYEdZk.png <- Rito where is my wukong skin at?
Spoiler:

I am the bone of my sword
体は剣で出来ている。
Iron is my blood and glass is my heart
血潮は鉄で心は硝子。
I have survived countless battles undefeated
幾たびの戦場を越えて不敗。
Nor once have I retreated
 ただの一度も敗走はなく、
Nor once have I been understood
 ただの一度も理解されない。
Always alone on the hill of swords
 彼の者は常に独り
intoxicated with Victory
剣の丘で勝利に酔う。
Thus this life has no meaning
 故に、生涯に意味はなく  
My body was surely made out of swords
その体は、きっと剣で出来ていた。

Jv

Slifer Red Duelist

Posts

: 16791

---

Reputation Points

: 58

---
on Wed Aug 12, 2015 1:17 pm
you have to read the other 3 level 3 brothers xD

Permissions in this forum:
You
cannot
reply to topics in this forum