Flash Dreyar

Slifer Red Duelist

Posts

: 382

---

Reputation Points

: 3

---
on Tue Feb 16, 2016 4:37 pm
I'm back to the forums. The reason for my absents is because I got bored of Yu-Gi-Oh. Everyone was using the same meta tier decks which made dueling boring, so I decided to retire and wait that problem out. Now I'm backing ironically one year since I joined and the problems seems to have improved. I am an old duelist who doesn't know much about the meta decks this time, so if anyone would like to inform me about it please do. So hopefully this time i'll stay.

I am the Son of Laxus: The Lightning Dragon Slayer and Mirajane: The She Devil. I've got some powerful parents, my dad taught me how to use lightning magic, my godfather Freed taught me jutsu shiki, and my mom taught me transformation magic and take over magic. My take over is known as symbiote soul, but I just call it Venom. It has dragon slaying magic so whenever i use it, i gain the powers to slay dragons, just like my father. However I can only gain that when I take over into it. This is me!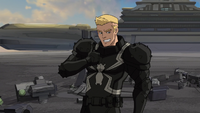 on Tue Feb 16, 2016 8:11 pm
*WAVE* Hello Esper.  Good to see you back.
I'm Yarn, the glamest staff here at DA.  Meta decks are definitely still dominating the game, but they are different ones than from a year ago, haha.  Really, just practice against them, and find a somewhat competitive deck is what I suggest for beating/attempting to over come them.
or don't.  just play hip decks like me

Monthly 
Members of Yarn's Knitting Club:
on Wed Feb 17, 2016 1:53 pm
Everyone uses the same decks because usually that's what a meta refers to. Welcome back


DA Administrator of the year 2012, 2014 l DA Artist of the Year 2012, 2014, 2015 l ~Lead, follow, or get out the way~

Permissions in this forum:
You
cannot
reply to topics in this forum