First topic message reminder :
☞60-cards Tournament
You there looking at the screen, hello and welcome to the first ever 60-cards 
Tournament
! As the name says, this will be a 
tournament
 where you must use 60 cards in the main deck, simple enough huh?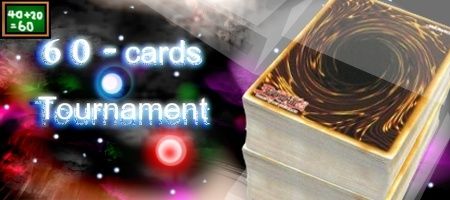 1. This will be a single elimination 
tournament
, which means if you lose a match, you're out.
2. All duels are best two out of three matches.
2. Both TCG and OCG cards are legal.
3. Meta, Burn, Deck Destruction, Win Condition, Self-destructing and FTK decks are all illegal,also lightsworns,burning abyss and phantomknights are not allowed even as an engine.
4. 
Deck changing is not allowed.
5. No inactivity will be tolerated unless mentioned beforehand, which means,
 if you are inactive for even 1 round, the victory will be your opponent's and you are out.
6. If you get disconnected, but have screenshots to prove you shouldn't get the loss, contact the host (which in this case, me), I will make an appropriate decision.
7. LAST BUT NOT LEAST, YOU MUST RUN 60 CARDS IN YOUR MAIN DECK. You can run any number (between 0 to 15) of cards in each your extra deck and side deck though.
☞Sign-up format:
In order to sign up, you must post with your DN name and your GMT along with your decklist. Like this:
DN name:
GMT:
Decklist:
☞Prizes:
1st Place: 3600DP + 1 Medallion
2nd Place: 2400 DP + 1 Medallion
3rd Place: 600 DP + 1 Medallion
Enjoy carrying a heavy deck around with you in this 
tournament
!
ROUND 1 
http://challonge.com/5f6yjbbc
DEADLINE : 24TH OF MARCH
Last edited by CrimsonOverlord on Thu Mar 24, 2016 4:28 pm; edited 6 times in total
SHADOW RIDERS