First topic message reminder :
Triple Principle Tournament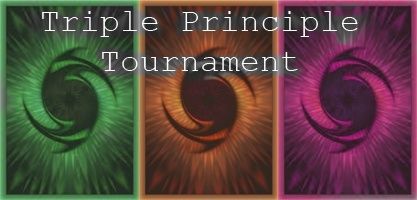 Welcome to Duel Academy's first Triple Principle Tournament!
Rules:
1. You must make 3 decklists, one with 40-60 monsters only (No pendulums), one with 40-60 Spell Cards only (can include up to 10 pendulum cards), one with 40-60 Trap Cards only.
2. TCG+OCG cards are all allowed. We follow the latest TCG banlist in this tournament, excluding "Chicken Game" and "Upstart Goblin", those 2 cards are unlimited in this tournament.
3. This tournament will last 3 rounds only, swiss tournament.
4. A disconnection counts as a single loss, unless there is a proof (Which will be judged) That you had an upper hand over the situation.
5. Side deck would not allowed in any of the three decks. Also, only the all monster deck can have an extra deck,. 
6. Each round you will use one of the decklist you prepared, you can use either 1 of the 3 lists, but you can only use each list once for 3 rounds. 
In other words, you will have to predict which deck your opponent will use to duel you and you use your either full monster, full traps, or full spells deck to duel or counter them.
NOTE: Cards like "Denko Sekka" and "Curse of Darkness" that completely shuts down one type of deck are banned in this tournament.
Sign-up:
Dueling Platform
Dueling Platform Name
Timezone
Prize:
1st Place: 1 Medallion + 3330 DP + 1 free custom rank item
2nd Place: 1 Medallion + 3000 DP
3rd Place: 300 DP
http://challonge.com/3prin Round 3 due date: May10th,2016
DECK USED ALREADY:                     
Round 1
Round 2
Round 3
AbyssalYGO       Trap              Spell
DanelerH          Spell            Monster          Trap
SilentKatana     Spell              Trap
PowerNova        Trap            Monster          Spell
Lux                 Monster           Spell
Pabel                Spell           Monster
Last edited by ABCBooks on Wed May 11, 2016 5:35 am; edited 10 times in total
DONDABA DENDEN EGAEGAON.