Tickletot

Slifer Red Duelist

Posts

: 1

---

Reputation Points

: 0

---
on Sat Apr 23, 2016 5:18 pm
Hi, new here but not new to yugioh, I've been playing yugioh since i was 8 years old, I now play Yugioh online(Dueling network) I use dueling network over YGPro because i dont like downloading things on my PC, and games dont usually work out on my pc because it might run slow. I'm very impressed with this forum, i was looking through the board directory and found this, best looking one out of all the other yugioh forums, this one is organised and neat.
I'm also a huge Nintendo fan i have a 3ds and a wii u i play all the online nintendo games so if you have one we can link up and play animal crossing new leaf or super smash bros Wii u or anything else.

Lux

Slifer Red Duelist

Posts

: 6245

---

Reputation Points

: 23

---
on Sat Apr 23, 2016 5:25 pm
Hey!
Welcome to the Duel Academy. Glad you like it here!
If you got any questions, feel free to ask


"So we are staying in this mess, this beautiful mess tonight"

Why so serious? :3 
CrimsonOverlord

Slifer Red Duelist

Posts

: 4092

---

Reputation Points

: 30

---
on Sat Apr 23, 2016 5:34 pm
Yo welcome to the academy! Hope we get to duel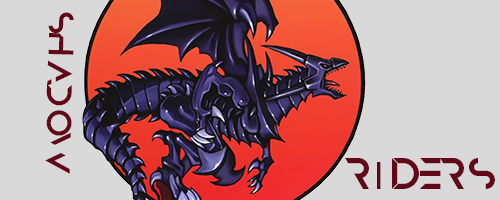 SHADOW RIDERS
ScottyAdams

Slifer Red Duelist

Posts

: 1192

---

Reputation Points

: 5

---
on Sat Apr 23, 2016 6:26 pm

#TheKozmoForce
'I know not of any Will, but I have some of that power'
'Take a walk through our garden and smell the Aroma' - >THE< Aromage player of DA
Frisky Badger

Slifer Red Duelist

Posts

: 2904

---

Reputation Points

: 63

---
on Sat Apr 23, 2016 7:52 pm

"Do I get the same with my boobs?" -XraishionX, 2013
"I'm a certified expert in Microsoft Word and PowerPoint." -Ezekeil, 2013
"Porn is more fun" -LOKOS, 2013
"Occasionally bisexual" -Kairi, 2013
on Sat Apr 23, 2016 8:40 pm

DA Administrator of the year 2012, 2014 l DA Artist of the Year 2012, 2014, 2015 l ~Lead, follow, or get out the way~
JC the shadow hunter

Slifer Red Duelist

Posts

: 1676

---

Reputation Points

: 4

---
on Sat Apr 23, 2016 9:54 pm
Yo, Welcome

I usually only play smash on the 3ds so if you have that hit me up


Permissions in this forum:
You
cannot
reply to topics in this forum