Fellow Duelists!  Welcome to the Battle City Tournament!
In this tournament we will relive the finals of the epic season of 
Yu Gi Oh - Duel Monsters that brought up the Egyptian God Cards!
 Duelists that wish to participate in this glorious event will receive randomly one pre-made deck that is themed around one of the eight anime characters that I have selected for the event, which are:
Yami Yugi ( Atem ) :
The Nameless Pharaoh (who eventually figures out his name at the end of the show lol) is the first finalist that we have in our top 8. His battle city deck is a very versatile combo deck that relies on his faithful partner - Dark Magician.  His cards compliment each other but if he runs out of cards in hand he is in trouble.
Seto Kaiba :
The Host of the Battle City tournament - the president of Kaiba Corp himself! Haunted by his loss to Yugi , Kaiba seeks to collect all Egyptian God Cards and become the King of games by crushing anybody that stands in his way! Not only that he has three copies of the legendary Blue-eyes White dragon, but his deck  features the famous virus strategy and various fusion options.
Joey Wheeler :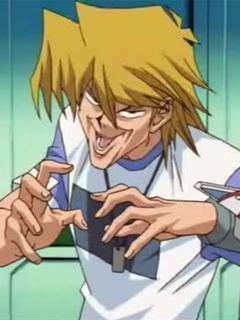 Joey came to Battle City to prove that he is a top duelist and that is exactly what any participant will do if they manage to snatch first place with his deck! The theme of the deck is warriors , but it includes his signature Red-eyes Black Dragon card and the mighty Jinzo! Watch out for his equip cards and "mad RNG skillz" !
Marik Ishtar :
We have one of the most evil characters in the YGO universe in the face of Marik. His dark deck focuses on the ability to burn the lifepoints of his opponent , while having a strong wall. You might want to think twice before you summon two heavy hitters against this guy, if you don't want to get lava golem'd. 
Mai Valentine :
The fierce harpie user is back using her winged beasts. The real power of her deck is the ability to destroy enemy backrow at will. Summoning multiple copies of Harpie Lady in one turn is very likely so watch out for one turn kills when you are playing against this deck.
Yami Bakura :
Bakura's "Occult Deck" is stronger than ever with Dark Sanctuary being released. The deck relies heavily on the graveyard utilizing cards like Doomdog Octhros, Sangan, Goblin Zombie and Witch of the Black Forest. You can expect Dark Necrofear to be stealing powerful monsters as soon as 3 fiends hit the grave.
Ishizu Ishtar :
Marik's Sister and proud keeper of the tomb of the Pharaoh - Ishizu comes to the Battle City Tournament with a full power Gravekeeper Deck!  Opponents stepping foot on the sacred grounds of Necrovalley will have to deal not only with the Gravekeeper monsters, but with Ishizu's powerful Necrovalley themed spells and traps like Royal Tribute!
Arkana :
And last but not least, for this edition of the Battle City tournament we have Arkana ( also known as Pandora in the Japanese version ) the master of Spellcasters! He has many "Dark Magician" themed cards plus some devastating spells and traps such as "Card of Demise" and "Dark Renewal".
Games should be played on the Unlimited(Unrated) section in DuelingBook, since every deck has banned cards in it.It is acceptable to play on a different platform only if both players agree to it. 
The format is 2 out of 3 Match Duel with siding direct elimination. Starting lifepoints are 8000 and the first turn player starts with 6 cards.A screenshot while siding must be submitted to me through some method (PM , discord , skype etc.) to make sure that you are using a legal deck. All the provided decks contain 40 cards main deck and 15 cards side deck. It is up to the player to decide if he wants to switch out or add in cards without removing anything from his side deck pile to his main deck. Adding cards from the side deck can be performed before the first duel too. 
Example 1 :  Player A decides that he wants to use two of the cards that are sitting in his side deck. He puts them in and has a 42 card main deck and a 13 card side deck before the start of the duel.  

This is fine!
Example 2: Player A decides to side-out any number cards from his main deck and swap them for the same number of cards from the side deck. The result is a 40 card main deck and 15 card side deck before the start of the duel.
This is also fine!
Example 3: Player A decides that his deck is missing an important combo piece or another copy of a card that he has in his deck. Result is cards that were not in the list provided from WondeRy are now in the deck.
This is not allowed! That is why a screenshot during the siding is required to ensure that nobody added illegal cards!
In the spirit of the Battle City event when you defeat your opponent, you can take a look at his deck and put one copy of a card that he has to your deck (you need to remove one card from your list to make space for it). You cannot have multiple copies of limited and banned cards also you cannot put more than three copies of a card in your deck.If you are not sure if you can get certain card after your win - reach out to me and I will inform you.
Sign-up's last till Monday (July 17) or till we get 8 players! It is first come first served, but make sure that you are available to play next week before signing in!
Use this format for signing up.
Code:
DA Username:
Timezone:
DB Username:
Signed Up:
1.vasko1234 GMT +2

2.Smileyh4h4 UTC -6
3.yugiohfreak14 EST
4.CelticDemon UTC-7
5.yoyomama EST
6.PunkPimster CEST
7.bleach19511 ?
8.WondeRy EST
~~~~~~~~~~~~~~~~~~~~~~~~~~~~~~~~~~~~~~~~~~~~~~~~~~~~~~~~~~~~~~~~~~~~~~~~~~~~~~~~~
~~~~~~~~~~~~~~~~~~~~~~~~~~~~~~~~~~~~~~~~~~~~~~~~~~~~~~~~~~~~~~~~~~~~~~~~~~~~~~~~~
Bracket is UP ! Check it out http://challonge.com/DAbcity 
Deadline for Round one is Friday 7/21/2017 !
~~~~~~~~~~~~~~~~~~~~~~~~~~~~~~~~~~~~~~~~~~~~~~~~~~~~~~~~~~~~~~~~~~~~~~~~~~~~~~~~~~~~~~~~~~~~~~~~~~~~~~~~~~~~~~~~~~~~~~~~~~~~~~~~~~~~~~~~~~~~~~~~~~~~~~~~~~~~~~~~~~
First through third place will get DP rewards as usual with a chance for a mystery first place prize if I make it on time. Good luck everyone!
Last edited by WondeRy on Mon Jul 31, 2017 5:15 pm; edited 9 times in total

                                                                                                                                                             ~     E .F .S .F  .  E l i t e    ~